OCTOBER FREE book:
My Marine Daddies
by Sara Fields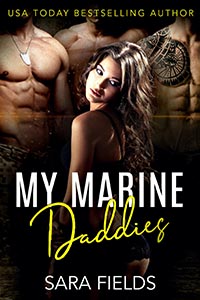 A Rough Reverse Harem Romance
I didn't go looking for a daddy. They decided I needed three.
I thought I knew what was best for me, but that was before I met the three Marines that changed my life. They told me I deserved better and when I fought them, they didn't just scold me. They put me over their knees and made me call them daddy. All three of them.
They aren't gentle daddies though and it isn't long before I find out that naughty little girls are thoroughly punished in ways that leave them shamefully sore, well-used and soaking wet. It doesn't matter if I blush or beg for more. They know what I need.
That's what it means to belong to three Daddies.