MAY FREE book:
Rescuing Zoe
by Ellie Masters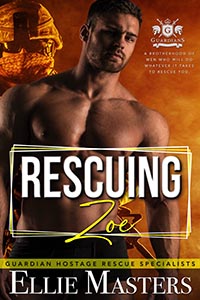 The last thing Zoe expects during Spring Break is to be trapped in a shipping container with a dozen other girls.
Rescuing Zoe is a fast-paced, steamy, contemporary, military, romantic suspense that will tug at your heartstrings and leave your heart racing.
One phone call changes my entire life.
My best friend's little sister is missing, kidnapped off the streets of Cancun.
He needs my special skill set to bring her home.
A former Navy SEAL, I'm now a Guardian, a brotherhood of men dedicated to rescuing those who've been taken.
Rescuing Zoe should be just another job, but Zoe and I share a history.
One her brother doesn't know about.
She's been in love with me since she was five.
It began as an annoyance, but a year ago I set her straight.
She crawled into my bed and I broke her heart.
I walked away.
But now?
Now, I'll do anything to bring her home.
If you love over the top alphas, military men that like to take charge, steamy couples, and happily ever afters, Rescuing Zoe is for you. Drop your inhibitions at the door. You won't be needing them anyway. Rescuing Zoe is book 2 in the Guardian HRS series. All books are contemporary standalone, steamy military romances, with arrogant alpha male heroes and the smart, feisty heroine who steals his heart.
Each couple has their own Happily Ever After (HEA). Grab your copy today and let the binge-reading begin!
If you're looking for light and fluffy, you won't find it here. If you're looking for gripping suspense and to discover the true resiliance of the human soul, you're in the right place.
(Meaning, this story may cause triggers.)