FEBRUARY's FREE book is:
Ride Me Dirty by Vanessa Vale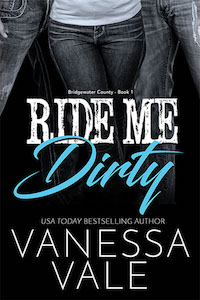 About the author:
Vanessa Vale
When she's not writing, USA Today Bestselling author Vanessa savors the insanity of raising two boys, is figuring out how many meals she can make with a pressure cooker, and teaches a pretty mean karate class. She considers herself to be remarkably normal, exceedingly introverted and fairly vanilla, which does not explain her steamy stories and her fascination with cowboys, preferably more than one at a time. She lives in the Wild Wild West where there's an endless source of 'research' material.
List of series:
Steele Ranch
Bridgewater County Series
Outlaw Brides Series
MMA Fighter Series
Montana Men Series
Bridgewater Menage Series
Wildflower Brides Series
Mail Order Brides Of Slate Springs Series
Connect with Vanessa online:
Amazon ♥ BookBub ♥ Facebook ♥ Twitter ♥ Instagram ♥ Website ♥ Goodreads ♥ Pinterest ♥  Wattpad ♥ LinkedIn